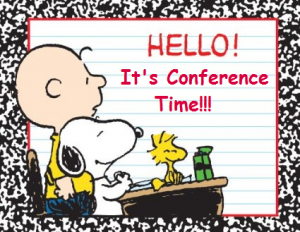 Parent-Teacher-Student Conferences
Thursday, March 11 and Friday, March 12, 2021
Due to COVID-19 restrictions, we cannot host in-person conferences at the school. That said, we will still be using an online scheduler so that you can choose your own conference time! We encourage you to log-in and set up your parent account now. The process for booking conferences is broken into the following steps:
Step 1 – Pre-Register at:  https://reginapublic.schoolsoft.com  (DO NOT include "www" in the url) You can set up a Parent Account by following the link above. Click the REGISTER NOW button and complete the registration form. Your login credentials (email and password) will remain in the system to make it easy to access the Conference Manager in the future.
Please note that in order to enhance functionality and security, the Conference Manager requires you to use Internet Explorer 7 (or above), Firefox 3 (or above) or Safari 4 (or above).
In order to ensure that your email program does not block emails sent from the Conference Manager, we suggest adding appointments@schoolsoft.com to your address book.
Step 2 – Conference Manager Opens to Parents/Guardians on Wednesday, March 3 at 6:00am
You can access the Parent Login Page using the link in the Confirmation Email. If you do not receive a Confirmation Email, you can login by going directly to https://reginapublic.schoolsoft.com If you do not have Internet access, you are welcome to contact the office and we will schedule your conferences on your behalf.
Step 3 – Book your Parent-Teacher-Student Conferences
Select the teacher(s) with whom you want to book conferences. You will see each teacher's schedule. After booking your appointment(s) you can print off your schedule. You will also receive an email containing the teacher name and time of the conference. You can log into the system at any time to view your bookings, print, cancel or re-schedule appointments. 
PLEASE NOTE ALL CONFERENCES WILL BE HELD VIRTUALLY USING ZOOM or GOOGLE MEET. If you would prefer a phone conference, please leave your phone number when you book your conference. Classroom teachers will share log-in information with you closer to the date.
Important Dates:
Wednesday, March 3 at 6:00am - Conference Scheduler opens
Wednesday, March 10 at 6:00am - Conference Scheduler closes
Thursday, March 11, Student Conferences, 3:45-5:45
Friday, March 12 – Student Conferences 8:00-12:00 for Grades 1-8, 8:00-2:00 for Kindergarten(NO SCHOOL FOR STUDENTS)